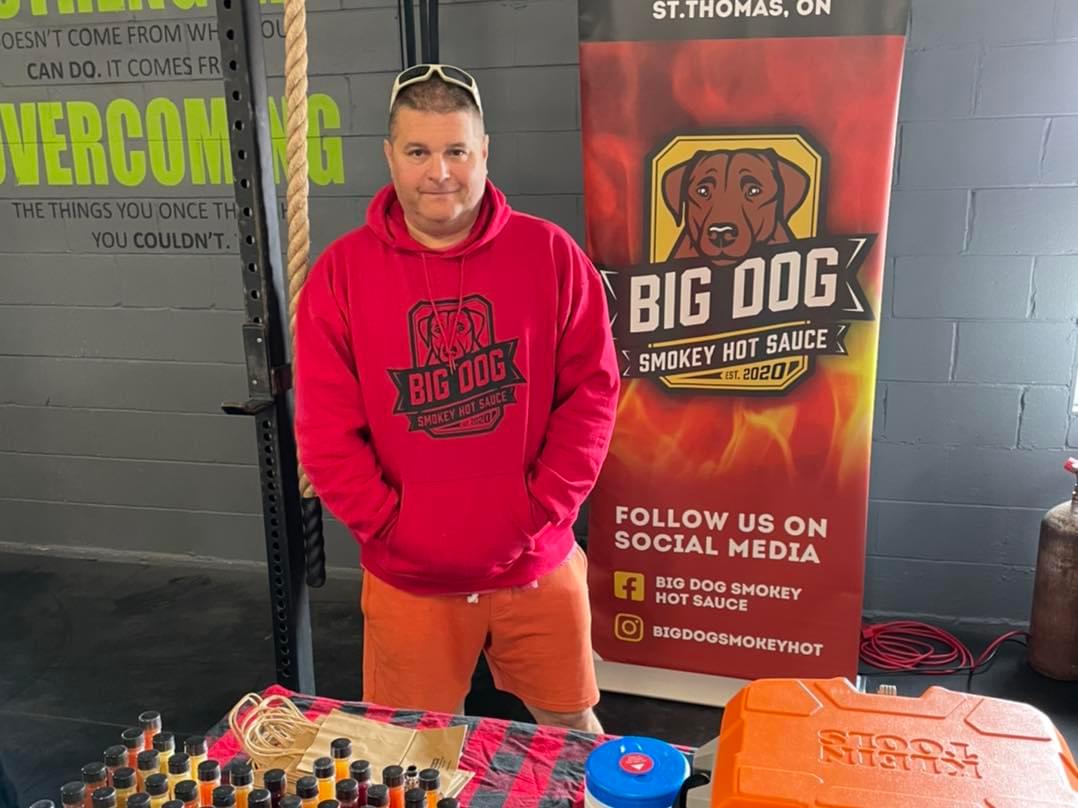 Flavour first with Big Dog Smokey Hot Sauce
"I didn't plan to get into the hot sauce business," says David Young. "Never crossed my mind." This is not the answer you expect when you ask a new entrepreneur, 'what got you into your business'? But then again, like Bob Ross always said, sometimes the best things 'are happy accidents.' David, whom many of you may know from his time slinging drinks at Bella Jack's Mexican Cantina, has launched his own brand of locally made hot sauces called Big Dogs Smokey Hot Sauce, named after his three big dogs, Shiner, Tucker, and Sam.
"I just love smoked food," David shares. "Just over three years ago, I smoked some habaneros and made some hot sauce. At the time, I was a server at Bella Jack's. I took some to work and Rob the owner loved it. He and some of the regular customers encouraged me to keep making it." David listened: "I started making more flavors and it just took off."
David believes his use of local ingredients and his smokey flavours sets him apart from the national brands. "I found that a lot of hot sauces were all about the heat and not the flavour; with my sauces, flavour is first and heat secondary. A hot sauce shouldn't take away from the food you're eating it with so I went with the smoke. Also, most hot sauces use fermented hot peppers. Smoking the habanero, ghost, and reaper peppers further sets me apart from the big guys plus, all of my sauces are small batch, just 36 per batch. And I'm all about supporting local farmers and businesses."
Big Dogs Smokey Hot Sauce has a wide variety of flavours, including Original, Maple, Mango, Pineapple, Blueberry, Citrus Fiesta, Dirty Peach, Tickle my Pickle, Ghost, and Reaper. Big Dogs Smokey Hot Sauce can be found locally at the following locations: Briwood Farm Market, Sub Zero, Taste Makers Studio, Crocker's, Steelhead Food Co., Caps off Brewing Co., Simply Pure Water, Geerlinks Home Hardware, and Epiphany in Aylmer.
"I'm excited about the future," says David. "I love making hot sauce. I especially love hearing back from customers about what they liked about them. For me it's about creating sauces that people can't get enough of. It's easy to be motivated when you love what you do. I've never had my own business and I'm looking forward to seeing it grow. In my wildest dreams I never thought I would be making hot sauce for a living."